Previous Page
Regal Manor Twin
609 Providence Road, Charlotte, NC 28207
Movieline: 1-(844)-462-7342
Website: http://www.regalcinemas.com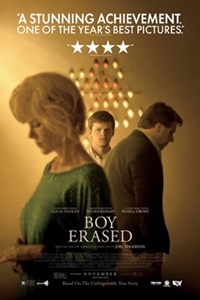 Boy Erased (R)
Cast: Lucas Hedges, Nicole Kidman
Runtime: 1 hr. 54 mins.

Boy Erased tells the story of Jared (Hedges), the son of a Baptist pastor in a small American town, who is outed to his parents (Kidman and Crowe) at age 19. Jared is faced with an ultimatum: attend a gay conversion therapy program - or be permanently exiled and shunned by his family, friends, and faith. Boy Erased is the true story of one young man's struggle to find himself while being forced to question every aspect of his identity.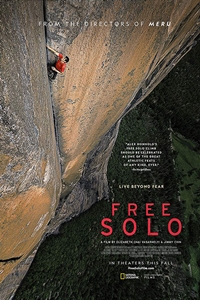 Free Solo (PG-13)
Cast: Alex Honnold
Runtime: 1 hr. 37 mins.

FREE SOLO is an edge-of-your seat thriller and an inspiring portrait of an athlete who challenges both his body and his beliefs on a quest to triumph over the impossible, revealing the personal toll of excellence. As the climber begins his training, the armor of invincibility he's built up over decades unexpectedly breaks apart when Honnold begins to fall in love, threatening his focus and giving way to injury and setbacks. Vasarhelyi and Chin succeed in beautifully capturing deeply human moments with Honnold as well as the death-defying climb with exquisite artistry and masterful, vertigo-inducing camerawork.